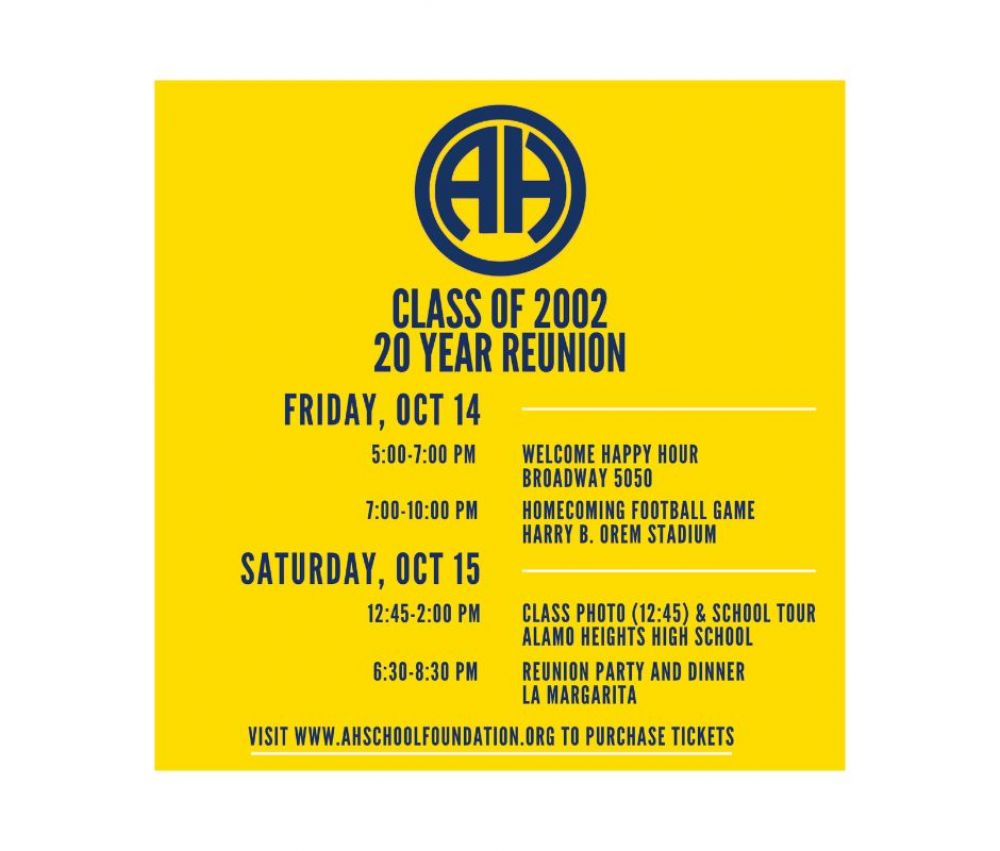 Register for your 20th Reunion, the homecoming football game, and high school tour!
*Sponsorships available*
Event Description
The Class of 2002 will be holding our 20th Reunion during Homecoming Weekend on October 14th and 15th.
**Tickets to the events have been priced below cost in order to encourage attendance. If you are feeling generous and can afford it, there are sponsorship opportunities to help offset the cost. Any excess proceeds will be donated to the AH School Foundation on behalf of the Class of 2002.**
Friday, October 14, 2022
- Happy Hour: Kick off our Reunion Weekend with a happy hour at Broadway 5050 between 5 PM - 7 PM before cheering on our Mules at the football game! Tickets are $25. | Address: 5050 Broadway, 78209
- Going to the Homecoming Game against Harlandale? Head over to the new and improved Harry B. Orem Stadium - the game starts at 7 PM. Tickets are $8 and must be purchased in advance here to guarantee a seat with your class. Reserved section will be announced closer to the game.
Saturday, October 15, 2022
- Tour of Alamo Heights High School: Meet at the front of AHHS for a class photo at 12:45 PM. The tour will take place 1 PM - 2 PM. Please mark if you and any guests plan to attend. All buildings are wheelchair and stroller accessible.
- Enjoy dinner and drinks (cash bar) at La Margarita Mexican Restaurant & Oyster Bar from 6:30 PM - 8:30 PM. Tickets are $45 each. | Address: 120 Produce Row, 78207 (Historic Market Square)
Help the Alamo Heights School Foundation keep our records accurate and up to date by filling out this Alumni Contact Form.