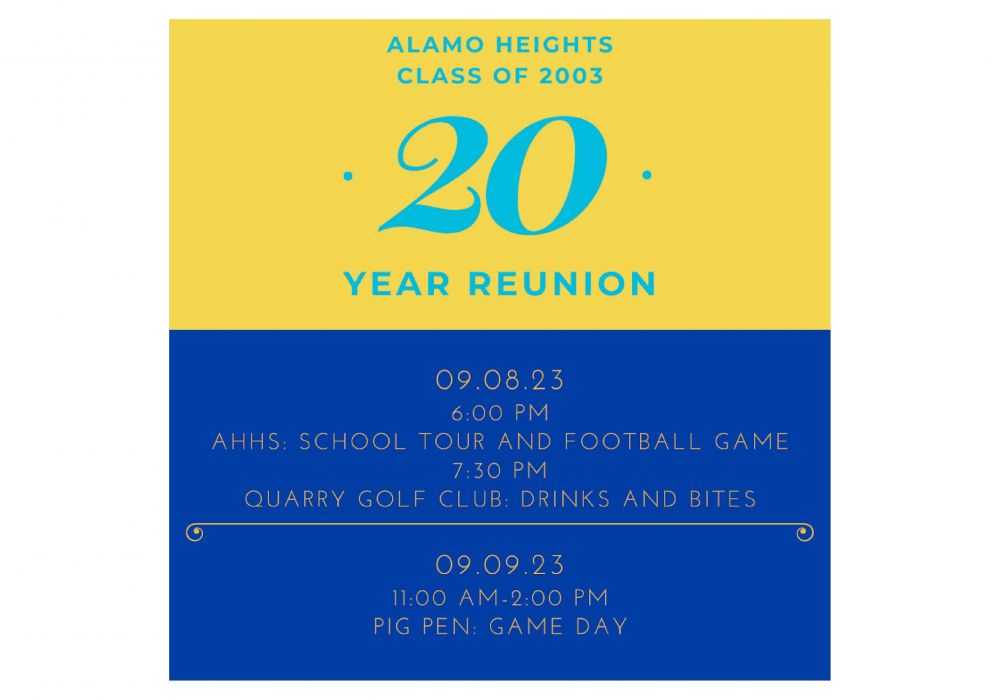 Buy Your Tickets or Contribute Here:
Event Description
The Class of 2003 will be celebrating its 20th Reunion on September 8th and 9th!
---
It's 2023 and time to celebrate our 20th high school reunion. We can't wait to have everyone here in San Antonio and learn what you've been up to since we graduated. We would love for you to save the date and consider joining us for the following festivities.

Friday, September 8th
6:00 PM School Tour
A lot has changed in the 20 years since we graced the halls of AHHS! Meet us before the football game for a guided tour to see how our dear old school has grown since 2003. The tour is FREE, but registration is requested so the tour guides can plan accordingly. All buildings are ADA-compliant. Please meet at the main gate of Orem Stadium no later than 6 PM.
7:00 PM Football Game
Where did we go? Alamo Heights! Root the Mules to a victory with a reserved section of the stadium (Section A; row and seat numbers to be announced). Gates open at 6 PM and kickoff is at 7 PM. (Cost: $10)
7:30 PM-10:30 PM Quarry Golf Club-Drinks & Lite Bites
Join us for drinks and lite bites while we get to mix and mingle with our class at the Quarry Golf Club. (Cost: $40)

Saturday, September 9th
11:00 AM - 2:00 PM Game Day at the Pigpen
We'll have some good Bar-B-Que at the Pigpen and watch the day's football games with our class while we catch up on all the happenings over twenty years. (Cost: $60)
Saturday Night is open. Consider getting a table with some of your classmates at your favorite restaurant, meet your crew at the 5050, or throw a house party so you can catch up and enjoy being in San Antonio!
---

HOW TO SUPPORT
We need sponsors and underwriters so we can reduce the cost of tickets and make the event inclusive to everyone. Contribute to the reunion using the button at the top of the page. Please note that any payments made to the reunion are not tax-deductible. You can choose to make a charitable donation to the AH School Foundation's mission to fund teachers using the DONATE button at the top of the page.
A list of all sponsors and underwriters will be displayed at all events unless marked anonymous.
Blue Reunion Sponsor- $250
Includes tickets for 2 to each event and a sleeve of cups.
Gold Reunion Sponsor- $500
Includes tickets for 2 to each event, a sleeve of cups, and koozies.
Mighty Mule Reunion Sponsor- $1000
Includes tickets for 2 to each event, a sleeve of cups, koozies, and a T-Shirt.

We are looking forward to a great reunion and look forward to seeing everyone this September! Email us with questions at 2003mules@gmail.com.
- Callie Mortimer Mayo, Emmy Rogers Ballantyne, and Blake Cavender
---
Help the Alamo Heights School Foundation keep your class records accurate and up-to-date by filling out this Alumni Contact Form.