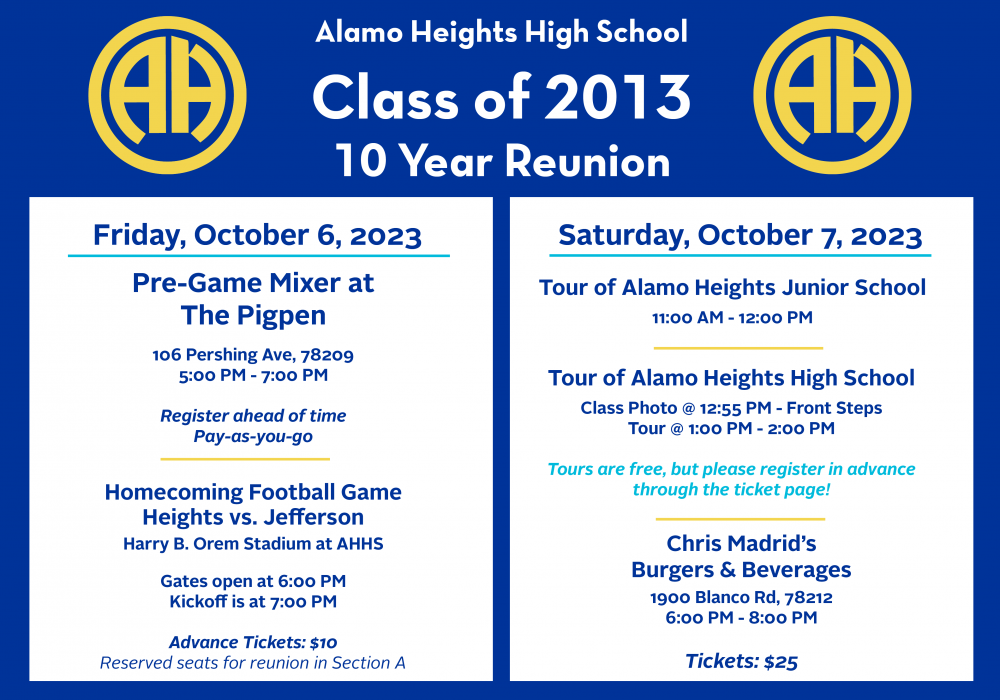 The Class of 2013 will hold its 10-Year Reunion during Homecoming Weekend, October 6th & 7th!
Event Description
Friday, October 6, 2023

Friday Night Social at the Pigpen
Time: 5:00 PM - 7:00 PM
Cost: Pay-as-you-go
Homecoming Game: AHHS vs. Jefferson
Time: 7:00 PM Kickoff
Cost: $10 (this will cover the cost of a general admission ticket plus processing fees)
Reserved seat blocks will be located in Section A at Orem Stadium
Saturday, October 7, 2023
Tour at Alamo Heights Junior School
Time: 11 AM - 12 PM (arrive at 10:45)
Cost: Free, but registration will be requested.
Tour at Alamo Heights High School
Time: 1 PM - 2 PM (arrive at the front steps at 12:45)
Cost: Free, but registration will be requested.
Saturday Night Dinner at Chris Madrid's
Time: 6:00 PM - 8:00 PM
Cost: $25
Register using the ticket button above!
---
Class Reunion Contact:
Chandler Wahrmund, 2013 Class President
alamoheights2013@gmail.com
---
Help the Alamo Heights School Foundation keep your class records accurate and up-to-date by filling out this Alumni Contact Form.