Barbara and Alan Dreeben
Distinguished Service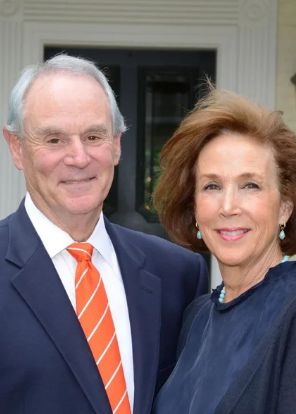 Barbara and Alan Dreeben have always been advocates of education and the Alamo Heights community. Before graduating from Alamo Heights High School in 1963, Barbara dedicated herself to multiple organizations on campus including the Junior Red Cross Council, Senior Mule Stall Council, and the Spurs as our favorite mascot, Caledonia. Alan attended Highland Park High School in Dallas, and both Barbara and Alan attended The University of Texas at Austin. Alan also earned an Executive MBA from Harvard University, an honorary LLD From Texas State University, and an honorary PhD from the University of the Incarnate Word.
As fierce proponents of education, Barbara and Alan have endowed the Early Childhood Center at the Jewish Community Campus as well as the Dreeben School of Education at the University of the Incarnate Word. Alan has served on the boards of the Bexar County Federation of Schools, Texas State University System, Trinity University, University of the Incarnate Word, and The University of Texas at San Antonio as well as representing Region 20 on the Coalition of School Finance.
Over the last 50 years, Barbara and Alan have supported Alamo Heights Independent School District in numerous volunteer roles. While their three daughters attended Alamo Heights, Barbara was active on various campus Parent Teacher Organizations. Alan served on the Board of Trustees from 1984-1990 in multiple roles including Secretary, Vice President, and President. Alan also served on the Alamo Heights School Foundation board. While their grandchildren attended AHISD, Barbara chaired "The Homecoming of the Century" to celebrate the District's centennial. Additionally, Barbara and Alan were instrumental in the launch of the Business Incubator program at Alamo Heights High School as both student mentors and generous underwriters. They both continue to be pillars of the community and champions for the District, serving as Honorary Chairs on the Alamo Heights School Foundation's Their Future! endowment committee.
In addition to the excellent service they have provided the District, Barbara and Alan have chaired and served on the boards of numerous organizations including the Charity Ball Association, Texas Biomedical Institute, Hospice of San Antonio, the American Cancer Society, Temple Beth-El, and the San Antonio Museum of Art.