Mary Zeigler
Lifetime Educator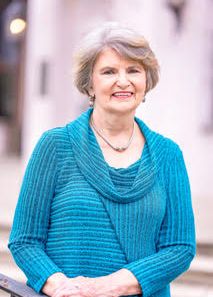 Mary Lester Zeigler spent her childhood years in the Curtis and Beech Grove communities near the East Texas town of Jasper. She graduated from Jasper High School in 1960 and attended Sam Houston State University in Huntsville, Texas. During her time at Sam Houston State, she was a member of Alpha Chi Omega sorority and the Orange Keys Service Organization. After graduating from Sam Houston with a Bachelor of Science degree in Elementary Education with certification for teaching grades 1-8, she moved to Houston for her first teaching position and married her husband, Dr. Robert "Bob" Zeigler in 1964. Later she returned to Sam Houston as a Graduate Assistant in the Department of Education, where she supervised student teachers and graduated with a Master of Arts degree.
In 1971, the Zeiglers moved to San Antonio. Mary began her career in Alamo Heights ISD as a sixth-grade teacher at Howard Elementary School, and from 1973 to 1987 she taught third and fourth grades at Woodridge Elementary. Mary was the first AHISD elementary teacher placed on the Career Ladder and one of two teachers who worked with AHISD administrators to develop District and Campus guidelines for placing other teachers on the Career Ladder. In 1987, she was chosen as the AHISD Teacher of the Year and was the Alamo Heights ISD's nominee for the Trinity Prize for Excellence in Teaching. She was one of five finalists out of seventeen nominees for this award.
While she was teaching, Mary attended graduate school at Trinity University and the University of Texas at San Antonio where she obtained certification in Mid-Management Administrator and as a Superintendent.
In 1988 Mary became the AHISD K-6 Supervisor, and from that position moved into the role of Assistant Superintendent for Curriculum and Instruction, which she held until her retirement in 2010. Among her major accomplishments was the formation of a committee to research, implement and supervise the Spanish Immersion Program. She was delighted that she ended her career the same year that the first group of Spanish Immersion students graduated from the high school. In 2019 she received the AHISD Legacy Leadership Award for the development of this program.
Bob and Mary are the proud parents of two children, Sara Lynn and Robert Todd. Bob, Sara, and Todd are all graduates of Alamo Heights High School. As a parent of AHISD students, she served on several PTO boards, co-chaired Field Day at AHJS, and recruited volunteers for AHHS Speech/Debate tournament. After her retirement, Mary continued her commitment to the education profession by serving as the treasurer and currently as the Co-President of the Alamo Heights Schools Retired Personnel Organization. Mary enjoys working out with a trainer, reading, and taking trips with her family and friends. She also takes pleasure in spending time with her nine-year-old granddaughter, Greta.