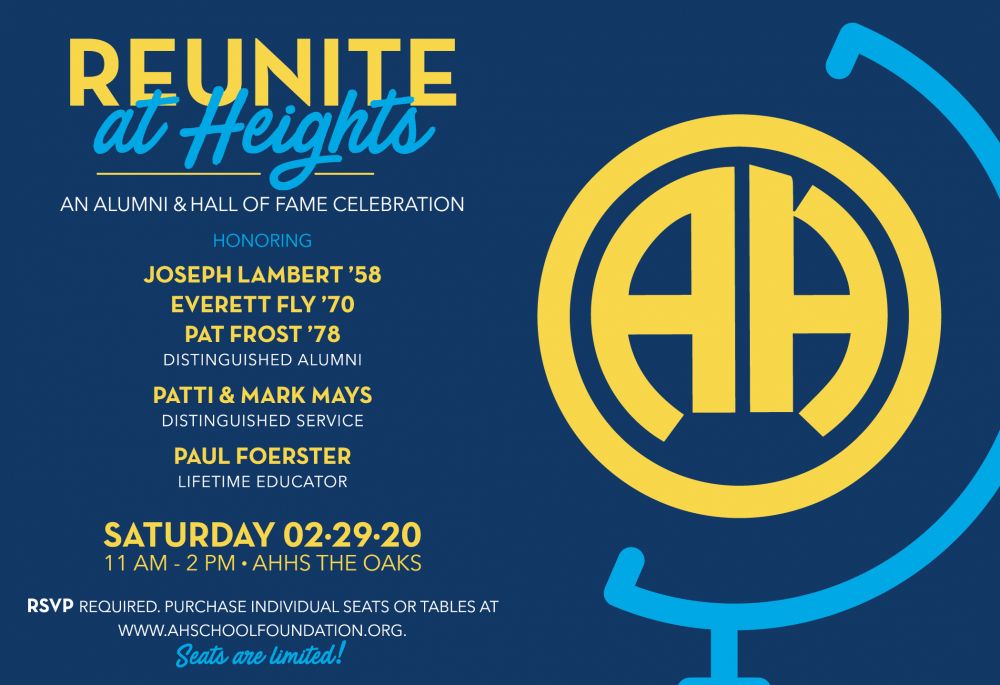 Location:

AHHS The Oaks

Date:

February 29, 2020

Time:

11:00am - 2:00pm
Event Description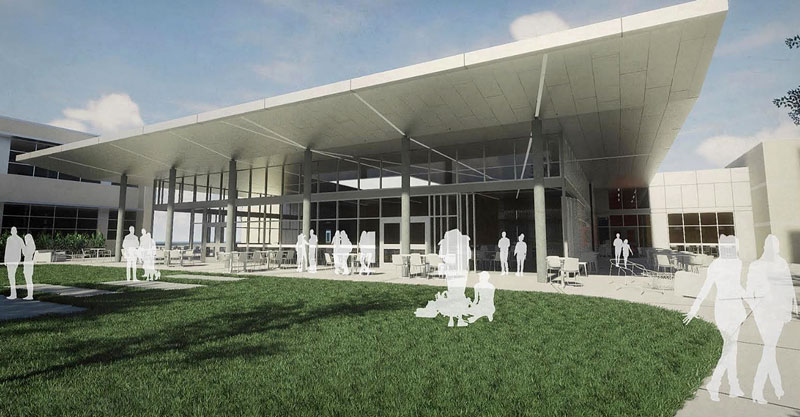 The Alamo Heights School Foundation would like to invite you back to Heights. The inaugural Reunite at Heights: an Alumni and Hall of Fame celebration will be held on Saturday, February 29, 2020 in the new cafeteria, The Oaks, at Alamo Heights High School.
Guests will be greeted by our AH-mazing spirit groups and students. During the luncheon, we will honor this year's Hall of Fame recipients, while also celebrating all the wonderful alumni and volunteers in the community. Rick Shaw '70 will be the emcee for the event as we look back on our memorable times at Heights. An open house of the high school will be provided after the luncheon, and items created from the Mule Dome floor along with AH alumni gear will be available for purchase.
2020 Hall of Fame Honorees
Distinguished Alumni
Dr. Joseph Lambert '58, Everett Fly '70 and Pat Frost '78
Distinguished Service
Patti and Mark Mays
Lifetime Educator
Paul Foerster

Ticket prices start at $40/person and tables of 10 can be purchased at $750/table. Sponsorship deadline for printed materials is next Friday, February 7. Tickets, tables, and sponsorships can be purchased on the form below. We look forward to seeing you there!
Special thanks to our volunteers:
Becky Gulley, Reunite at Heights Chair
Kelly Fellbaum, Hall of Fame Chair
Hall of Fame Selection Committee: Dr. Dana Bashara, Laura Guglielmo, Lisa Krenger, Terrie Musselman, and Paul Foerster (Distinguished Alumni and Service awards only)
Special thanks to our sponsors:
Mays Family Foundation, Mules Sponsor
Frost, Gold Sponsor
Fellbaum and Guglielmo Families, Blue Sponsor
Linebarger, Blue Sponsor
R.C. Page Construction, LLC, Blue Sponsor
Can't attend Reunite at Heights, but want to support our Hall of Fame recipients? Click here to make a special tribute gift.