2020 Hall of Fame Honorees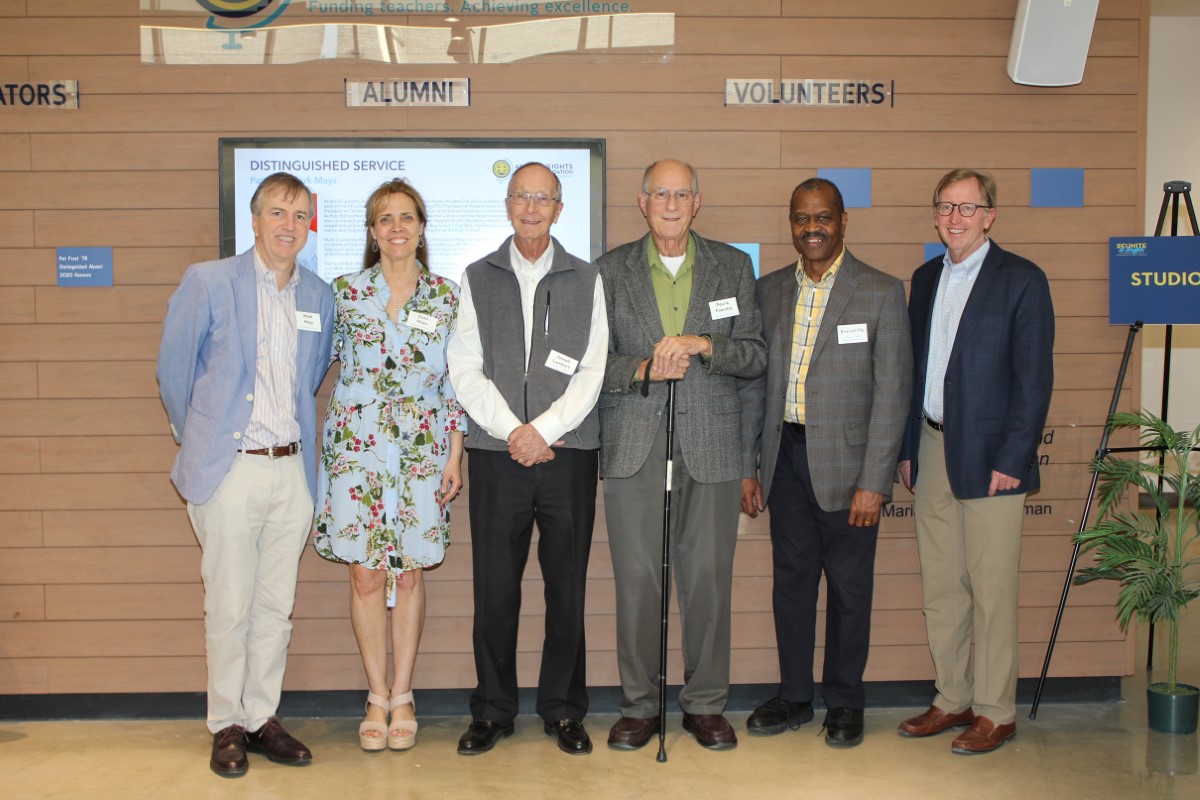 Photo from L to R: Mark and Patti Mays (Distinguished Service), Dr. Joseph Lambert '58 (Distinguished Alumni), Paul Foerster (Lifetime Educator), Everett Fly '70 (Distinguished Alumni) and Pat Frost '78 (Distinguished Alumni)
Event Description
On February 29th, 2020, the Alamo Heights School Foundation welcomed 250 guests to Reunite at Heights, our inaugural Alumni, and Hall of Fame Celebration. This all-class reunion was held in The Oaks, the new state-of-the-art cafeteria at Alamo Heights High School, where guests were greeted by AHHS spirit groups, the band, and JROTC. In all, over 100 student volunteers dedicated their time to help execute a memorable event for the community. Guests had time to peruse old yearbooks, reminisce with classmates, and browse the Alumni Store stocked with AH apparel and items crafted from the beloved Mule Dome floor.
Emcee Rick Shaw, Class of '70, kicked off the program with special shout-outs while students served plated meals to VIP guests and others received the first-hand experience of the improved cafeteria lunch lines. Six deserving honorees were then inducted into the 2020 Hall of Fame. Dr. Joseph Lambert, class of '58, Everett Fly, class of '70, and Pat Frost, class of '78, received the Distinguished Alumni Awards; Paul Foerster received the Lifetime Educator Award, and Patti & Mark Mays received the Distinguished Service Award.
After the program, honorees visited the newly unveiled Hall of Fame Wall, temporarily located in the new art gallery until completion of the Athletic Complex, where the permanent display will reside. The event culminated with an open house of the high school, where alumni could revisit old classes on their trip down memory lane and hear from current students and teachers about the great things taking place at Heights.